Parisian creative polymath Arielle Dombasle will be in concert in London with Nicolas Ker for the first time in London at The Tabernacle on Tuesday 25 June in collaboration with The Hexagon Society. The duo will be performing oeneric English album La Rivière Atlantique reminiscent of the darkly intimate tones of PJ Harvey and Nick Cave.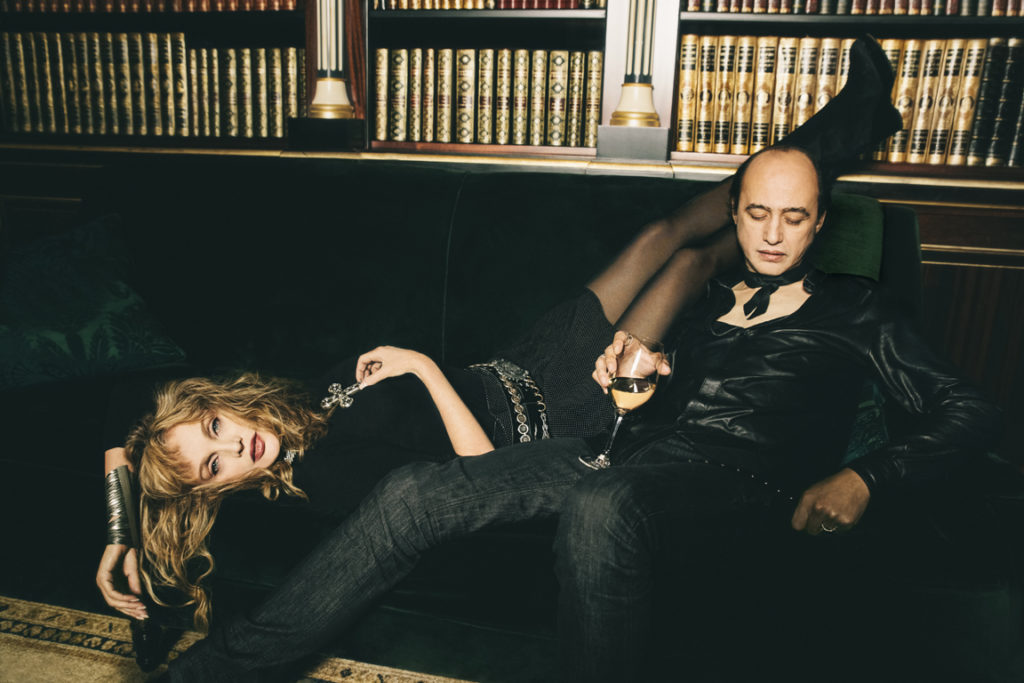 Arielle Dombasle is a Franco-American actress, singer, model and director renowned for her roles in movies by Nouvelle Vague director Eric Rohmer, Tess by Roman Polanski and in the TV series Miami Vice. Since 2010 she has released ten albums, her third Amor Amor going platinum. Dombasle directed her first film Chassé-Croisé at the age of 20 before going on to make French classics Les Pyramides Bleues and Opium. Musician Nicolas Ker is also the frontman of French electronic group Poni Hoax. She is the wife of eminent French philosopher Bernard-Henri Lévy.
You and Nicolas Ker be performing together in London for the first time, how would you compare French and British culture? What British musicians do you enjoy?
I do not compare countries. I love British artists in the arts, in music, painting and performing arts as much as French ones. For me, loving Purcell, Haendel, Dowland, Bowie, The Cure, Joy Division and Serge Gainsbourg is something that goes beyond the Channel. They share the same passion and the same drive.
What was the inspiration behind the English album La Rivière Atlantique that you will be performing at The Tabernacle?
The inspiration behind La Rivière Atlantique is a revival of the Velvet Underground that Nicolas Ker and I both love, Lou Reed, John Cale and Sterling Morrison. Nicolas Ker's voice is often compared to that of Leonard Cohen or David Bowie. Our concert is a live happening with our band, Empire. They all come from the Conservatoire de Musique. Our drummer, Mark Kerr, even received a Victoire de la Musique in 2019.
Your voices have been compared to the intimate tones of PJ Harvey and Nick Cave, who inspires you creatively?
PJ Harvey and Nick Cave precisely! Kylie Minogue and Nick Cave as well.
Your surreal feature film Alien Crystal Palace released last year was a visual chef d'oeuvre inspired by the likes of David Bowie and David Lynch. How did this project come about?
It is a tribute to Gothic and Fantasy films. Our biggest inspiration was Dario Argento along with Stanley Kubrick and David Lynch. We were lucky enough to be involved with these wonderful directors.
Are visuals an important part of your musical performances?
Yes, indeed! At our concerts at the Salo, Le Grand Palais, Le Café de la Danse or La Cigale, there has always been a mix of daring visual as I've been making videos for years. Then again, like in Andy Warhol's pop era, there's a mix of film, performing arts and music.
How did you both meet? Will you be collaborating on any other projects together?
Nicolas Ker and I met back in 2014 at the Cirque d'Hiver, in Paris, with the American Cabaret New Burlesque dancers that were actually filmed by Amalric in his movie On Tour. We connected at once and he started writing La Rivière Atlantique. We are currently working on our second album together, it's called Empire.
What's your creative process? How does this process differ when working on different projects?
We spend many hours with our band in dark and underground studios full of excitement. Long hours of pure music infusing and inspiring our videos.
What will you be doing while you are in London?
I will be performing, acting, singing, dancing and taking many selfies as I'm always asked to!
The Tabernacle
34-35 Powis Square
Notting Hill
London W11 2AY
Tuesday 25 June, 8pm
Closest tube station: Notting Hill Gate
Tickets: £15 standing, £30 sitting
IMAGE: Arielle Dombasle & Nicolas Ker by Charlélie Marangé.